Too young to make a difference for breastfeeding? Think again!

Click here for more information...
Guatemala
RUMBA Guatemala 's first workshop took place on 9th December 2006, with the support of IBFAN, WABA, The Birth Company and La Leche League Guatemala. A total of 26 people attended this workshop and they were invited to endorse RUMBA.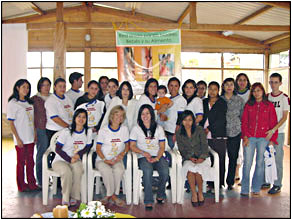 KOREA
On 16th December 2006, a new YOUth initiative was born, EABA Youth. (East Asia of Breastfeeding Action Youth) In this meeting, there were participants from Korea, Mongolia and China. There were presentations on the WABA Youth Initiative, RUMBA and a discussion on developing an action plan for short-term, mid-term and long-term activities for this newly born initiative. The participants were invited to complete the WABA Youth Initiative Endorsement. For more information on this initiative and how to become a part of this, please contact Min Sang-Hee <sanghee0502@yahoo.com>.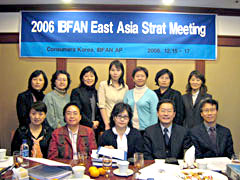 PAKISTAN
Interaction session with youth on Breastfeeding

Blue Veins organised a one hour interaction session with youth in the Mohammad Khan village on youth & breastfeeding. The participants of the session were student of class 9th & 10th (Ages 15-17) & were students of the Government High School.

The Session was very interesting because the early child marriages are very prevalent in the area & despite of their very young age some of the students were already married & had children.

They were very shy to talk about breastfeeding as they considered breastfeeding as a "feminine issue" the level of their knowledge about breastfeeding was very low. They were very interested to know more about the youth initiative & wanted to know more about the activities of youth in relation to breastfeeding.

They showed a high level of interest in the father support group & requested for a out of school activity (In their community) to inform them about the father support group.

They initially thought that they can not play any role in the breastfeeding practice because they even feel shy to talk about it with their wives & because of the large & joint family system they have very less influence in decision making even about their own lives & if they will try to help their wives in breastfeed their baby, first of all older women (Mother & grand mothers) & even their wives will not like it & will consider it something not suitable for their husbands to do.

Local community elders , influentials & a famous religious scholar of the area were also present in the session . The highly appreciated the idea of Youth involvement in the breastfeeding & father support.

The religious scholar of the area also encouraged youth to get involved, get more & accurate knowledge about breastfeeding because Muslim women are encouraged by religion to breastfeed their babies & the if men can help & encourage their women in this process will be rewarded by God Almighty.