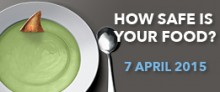 The 2015 World Health Day (WHD) theme is "Food Safety." From the World Health Organisation (WHO): Unsafe food is linked to the deaths of an estimated 2 million people annually—including many children. Food containing harmful bacteria, viruses, parasites, or chemical substances is responsible for more than 200 diseases, ranging from diarrhea to cancers.
Providing safe food for our children is imperative, and the simple act of breastfeeding provides a safe, clean, nourishing, and protective source of food from birth through a child's early years. The protection developed during these critical first years will provide a strong base that lasts a lifetime.
Read the full joint statement from WABA and La Leche League here.