---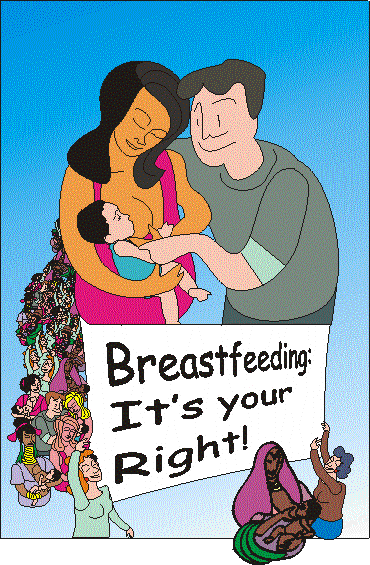 What is the WBW?
The World Breastfeeding Week is a manifestation and mobilization of international community concern for the needs of the breastfeeding dyad.

When is the WBW?
The official date of the World Breastfeeding Week is 1-7 August. In USA the WBW is celebrated in 1-7 August, however, some countries cannot celebrate events at this time, , so in most European countries as well as Canada and Brasil, the WBW is in October. If you are not sure about when WBW is celebrated in your country, please contact WABA Secretariat.

What is this year's theme for the WBW?
This year, WBW focuses on breastfeeding as a human right. New research is constantly revealing ever more clearly that it is not possible for infants and their mothers to achieve optimal health unless the conditions are created that allow women to practise exclusive breastfeeding for about six months and to continue breastfeeding, while providing adequate complementary foods, up to two years of age and beyond. Breastfeeding is a right of mothers and makes a major contribution to the realization of the child's right to food, health and care.

What are the WBW 2000 goals?
to raise awareness about the fact that breastfeeding is a right;


to provide information about formal and legal mechanisms that exist internationally and that either do or should exist at national level; and


to stimulate a shift in public thinking so that this

right is respected, protected, facilitated and fulfilled at household,
community and government levels in every country.
How can I learn more about "Breastfeeding and Human Rights"?

WABA has produced an action folder to help you to understand better about this year's theme. Click here to read our folder online.


How can I organize the WBW in my country?

WBW experiences in various countries have shown that better results are achieved and more people are involved when activities are well planned, organized and coordinated. The actions described here can be carried out in your neighborhood, your city, your state or even your country. Where ever you are, it is important to plan ahead!


How can I build an action plan for WBW?

Click here to read our suggestions.


Ideas for action

Every year we put together some suggestions of activities you can do, especially related to this year's theme. Click here to read the WBW 2000 action ideas.


Resources

Visit this page to find resources to your activities during the WBW.


WBW 2000 in other languages


.

---
WBW International Coordination: WABA Secretariat
---